Product Details
Fast acting, deep penetrating formula containing pure Neatsfoot Oil, that will not rot stitching. Fantastic for softening stiff or new leather and can be used routinely to nourish and rehydrate or as a preventative to avoid drying and cracking.
500ml tin
Also available in 1L & 5L Containers
Delivery
Customers are charged postage based on the weight of the order and where in the world the goods are being delivered. This is calculated for you in the website checkout area or by using the check delivery button above, making the shopping process quick and easy for our customers.
A guide to delivery prices can be found here.
We deliver worldwide. Please contact us for a quotation for deliveries outside the UK.
You may also be interested in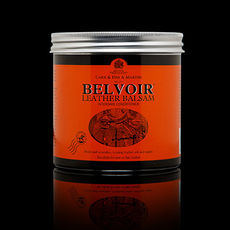 BELVOIR LEATHER SADDLERY BALSAM
Feeds and nourishes leather. Ideal for new, fine or water saturated leather
More Info