Product Details
These plain Classic Jodhpurs are elegant and versatile, and come in a range of beautiful colours. This simple design is ageless in its style and practicality, making it the perfect item for any occasion. It's easy to see why they're our bestsellers!
Delivery
Customers are charged postage based on the weight of the order and where in the world the goods are being delivered. This is calculated for you in the website checkout area or by using the check delivery button above, making the shopping process quick and easy for our customers.
A guide to delivery prices can be found here.
We deliver worldwide. Please contact us for a quotation for deliveries outside the UK.
You may also be interested in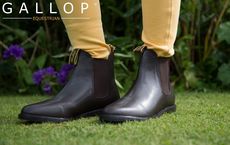 Childrens Classic Lifestyle Jodhpur Boots
A quality leather boot, water resistant and stylish.
More Info